Men, I care about you. I really do. I know up until this point my content has leaned more towards my female audience, but this post is my attempt to redeem myself. This week I've brought you a few of my favorites for men. You all role your eyes and pretend our inclination to shop drives you crazy, but I know that many of you peruse websites at night, shopping behind the scenes when you think we aren't looking. We assume that on Saturday afternoons you are out there doing "manly" things like shovelin' the driveway and grillin' meat. Just admit it – you were waiting for this list.
Johnnie-O Polo $65.00
Johnnie-O's polos are for the days when you want to look polished but still feel laid back. It's surfer dude meets Alex P. Keaton. We all love a good old-fashioned prepster, but sometimes we like a little edge on that prepster too. The long sleeve version is also great. Now if I could only get my husband to wear it untucked without a belt…
You've heard a man say it before, "It doesn't burn my taste buds, it just adds flavor." Well gentlemen, this one really does. Cholula has a slightly smoky, sort of tangy thing going on. It's great in soup, on Mexican food, or slathered on a burger. Anybody ever tried an Afterburner Shot?
Is there really anything hotter than a man in aviators? Think Tom Cruise in Top Gun – back when he was feeling the need for speed. These glasses look great, but you can also feel great when you buy them. Toms gives a pair of reading glasses to a child in need or pays for an eye surgery every time someone buys a pair. Giving back is even hotter than aviators.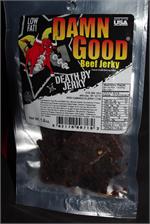 We log a lot of hours in the car driving back and forth to VT. Car time means snack time. This is no Slim Jim in a bag. It's much much better. Teriyaki flavor is in our top three and of course "Death By Jerky" is our favorite. When your lady tells you she can't stand the smell,  just say "But honey, it's packed with protein." She won't have a leg to stand on…
In our house we prefer the "slim fit". It really just means less fabric to tuck into the suit. They are really good quality and the site always has sales going on. Right now these shirts are selling 5 for $160. Just go ahead and throw out the ones hanging in your closet with the suspect yellow rings under the arms. It's time to buy new ones. You can afford it.