Fresh herbs can transform a meal. A sprig of parsley makes a bowl of soup look regal. A few mint leaves make a cocktail more festive. And without fresh basil – tomato and mozzarella would be a lonely pair. While they are easily found in the produce section – I think growing them in your own backyard is much more romantic. I love serving people food that is seasoned by herbs I have carefully cultivated and looked after in my garden.
I love that they are easy to plant and maintain as well. I use the same pots year over year – mixing the old soil to oxygenate it and then adding some new potting soil as well. Herbs should be planted deep enough that the first branches or leaves rest just above the soil line once the pot is full. This year I was pleasantly surprised to see that my chamomile, my peppermint, and my chives had all survived the winter outdoors. The other herbs were a little worse for wear so we replanted this past weekend. I can't wait to make my families famous mint pea salad for our first outdoor dinner and I look forward to experimenting with my newest discovery – the all natural sweetener Stevia. Herbs make me happy.
New herbs ready to be planted!
Rosemary
The lone survivors…
Hurricane Sandy was no match for this mint.
The Young Potters
Freshly Planted Parsley
Dill, Stevia, and Chamomile
Basil and Rosemary are the herbs I use most.
The Spring 2013 Collection
How to cook with herbs:
Why not use your fresh Rosemary to make the Barefoot Contessa's Chipotle and Rosemary Roasted Nuts? Find the recipe here.
Fresh Cilantro in homemade guacamole? ¡Por favor! Try this recipe from Cupcakes and Cashmere here.
I can't think of a better way to cook with fresh mint than in this Spicy Carrot and Quinoa Salad with Coconut Lime Dressing recipe. Divine… Find the recipe from The Year In Food here.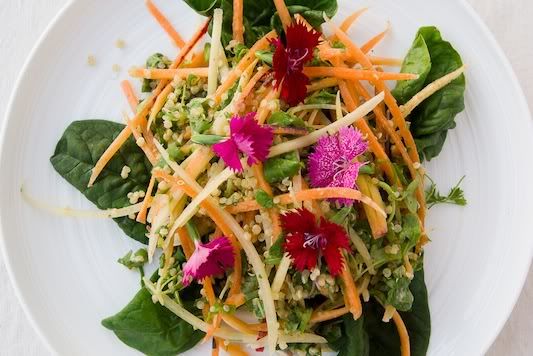 Fresh basil and chives work in almost any meal – breakfast, lunch, or dinner. This Spring Vegetable Fritatta from Camille Styles would be just perfect for a Mother's Day brunch! Recipe found here.