I love any and every opportunity to give people my opinion. Just ask those who know me well. I am a know-it-all. That being said, send me questions! I am DYING to give you answers. No need to give your name, I appreciate anonymity. I do! Not for myself, but for others. If I don't have a great answer I will either a) make one up or b) call on someone who does know the answer to help me out. I'm here to meet your needs. Isn't that what blogging is all about????? Mmmmm, not so much. Here goes!
Dear Sentimentalist,
My first child is 6 and I just had a second baby 6 months ago. Gear has changed so much. What are the "must have" items for a 7 months old?
Thanks from us both,
"Second-Time-Around-Mom"
Dear "Second-Time-Around-Mom",
First off, bring that baby by soon. You know Sentimentalmama has a thing for snuggling other peoples babies. Well, you have officially made it through (most of) those fun-filled sleepless nights of newbornland! We over here at the Sentimentalist are impressed that you have yourself together and are even thinking about gear. When my second was 6 months old it was tough enough to just keep both kids fed, changed, and on two different napping schedules, let alone wonder about what gear I would be needing for the babe in the coming months. Hopefully this list of goodies will keep your new baby busy. Buy. Them. All.
With love,
The SentimentaLIST
The snack cup:
How much time do you spend picking stale cheerios out from under car seats and sofas? Your life has just been changed because it is almost impossible for little ones to spill cheerios out of this thing. The washable fabric is genius. They tuck their little hands through the layered fabric and out come puffs, goldfish, blueberries, you name it! It's also much bigger than other cups so the snacks can easily last during long drives OR an afternoon of chasing your older sibling around as he or she runs from school, to ballet, to play dates, to dinner! Snacks = happy babies.
The toy they'll swoon over:
Get this wagon full of fun rolling around the room and your kid will be crawling in no time. Yes, the animal noises may make you want to stick play-doh in your ears, but kids just LOVE hearing the pig "oink!", the cow "moo", and the chicken "cluck". Think of it this way, they are learning their animal noises, being encouraged to crawl, and gaining a good work ethic by watching the farmer – all at the same time! Man does that farmer work hard.
The sippy cup that worked for me:
(Think Baby No-Spill Sippy Cup $13.99)
I like this one so much that I've almost filled it up with a latté and sipped from it myself. Never drips and something about the shape of the nipple made it easy for my second baby to ween off the bottle and transition into this cup. Handles mean you can grab it as you are running out the door to get your first child to school. Is anyone else but me always late for drop off?!?!?
Bathtub fix:
Oh tubby time. Why do I detest you so? 1) Leaning over the tub = backache. 2) Water everywhere. 3) Mommy is so tired by 6:00pm… This little guy just makes it safer for everyone involved.
Hands free fun: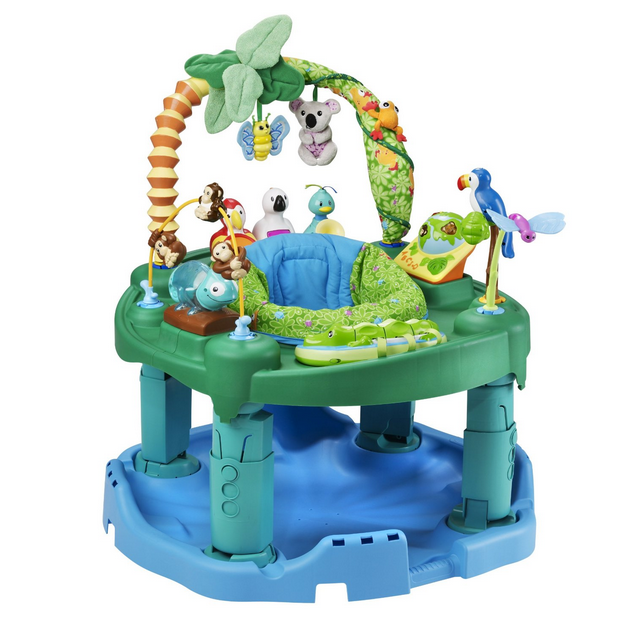 Some call it the "circle of neglect", others "the office". I just call it brilliant. Both of my girls adored this piece so much that when Emma was almost 3 she was still trying to crawl back into it with Sophie. Not a bad option for kids who are smaller in size. Admit it, many of us often wish we could still contain our 4 year olds.
The gift to yourself:
Go on. You deserve it.